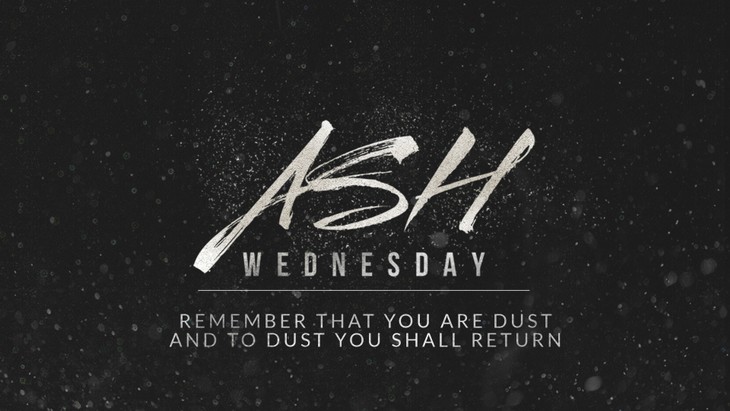 17
th
, February, 2021 (Ash Wednesday)
Every year, Ash Wednesday denotes the beginning of Lent and is always 46 days before Easter Sunday. Lent is a 40-day season (not counting Sundays) marked by repentance, fasting, reflection, and ultimately Easter celebration. The 40-day period represents Christ's time of temptation in the wilderness, where he fasted and where Satan tempted him. Lent asks believers to set aside a time each year for similar fasting, marking an intentional season of focus on Christ's life, ministry, sacrifice, and resurrection.
The ashes used are typically created at the parish church through the burning of palm branches. These palm branches were blessed on Palm Sunday the year before, which connects the beginning of Lent to the end of Lent, when we remember the Passion, death and resurrection of Jesus Christ. The penitential season begins with the crucifixion and ends with the crucifixion.

The prayer used by the priest to impose ashes on the forehead of an individual is meant to remind us of our mortality and the consequence of sin. The prayer, "Remember you are dust and to dust you shall return," or "Repent and believe in the Gospel" are reminders of our temporary life on earth, and our need to constantly renew our commitment to the reconciling message of Jesus.
St. John Paul II also summarized the depth of meaning behind the ashes. "Create in me a clean heart, O God, … take not your holy Spirit from me." We hear this plea echoing in our hearts, as we will approach the Lord's altar to receive ashes on our forehead. This act is an important sign of conversion and inner renewal. The Church reminds all believers and sinners, of their weakness in the face of evil and especially of their total dependence on God's infinite majesty".
Ash Wednesday is the beginning of the season of Lent, that invites us to participate with Christ Jesus in his challenging encounter with Temptations – "And he was in the wilderness forty days, being tempted by Satan"- Mk.1:13. It is an encounter with Jesus on the Mount of Transfiguration to participate with the disciples to listen to Jesus – "This is my beloved Son, listen to him"-Mk. 9:7. It is an encounter that leads us further to join Jesus at the Temple to see him demanding respect for the house of God – " Zeal for your house shall consume me"- Jn.2:17. It will lead us further into the very purpose of Jesus life on earth –"For God did not send his son into the world to condemn the world, but in order that the world might be saved" –Jn.3:17.
Lent is an opportunity to contemplate what our Lord really did for us on the Cross - and it wasn't pretty. Let us then take time to open the doors of our hearts a little wider and understand our Lord a little deeper, so that when Good Friday and eventually Easter comes, it is not just another day at Church but an opportunity to receive the overflowing of graces, God has to offer.
"Even now," declares the Lord, "return to me with all your heart, with fasting and weeping and mourning. Rend your heart and not your garments. Return to the Lord your God, for he is gracious and compassionate Joel 2:12-14 ".
Wishing you all a Spirit-filled Lenten season!
Fr. Anthony Pereira SMM