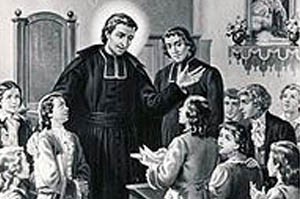 By seeing the fast growth of Montfortian in India Fr. I. Leclerc gave priority for three important things regarding permanent visa, place and the written acceptance of the Arch Bishop. The Fathers received the acceptance letter from the Arch Bishop on May 19th, 1976 to build and to begin the seminary in Bangalore. The Arch Bishop of Bangalore, Rt. Rev. Dr. Arokiasamy blessed the house on 8th of September 1978. Fr. Leclerc thanked the Italian province for its cooperation and interest in establishing our presence in India.
As the vocations were constantly increasing our Fathers thought of having different houses for different levels of formation. As we were searching the place in Mysore, the Notre Dame Sisters sold their formation house to Montfort Missionaries. Today it is the minor Seminary known as Guru Mandir. From here students went to St. Philomena's College to do their PUC. Later we purchased Montfort Farm which is at the foot of Chamundi Hill. These were two wonderful houses which were used for formation in Mysore Rev. Fr. Donald Macdonald was the first novice master for the novices. Because of his sudden departure to England, he was replaced by Fr. Flynn Kiren as novice master. In 1979 Fr. Augusto Carvalhio, Bro. Peter Swamy and Bro. Raja Rao returned from Rome after their successful studies. Both Bro. Peter Swamy and Bro. Raja Rao made their final vows on 31st January 1980. They were ordained deacons on 25th March and on 7th June they were Ordained Priests by His Grace Rev. Dr. Arokiaswamy, the Bishop of Bangalore.
Shocking Message
There was a letter from the Government of India in the year 1982-83, asking the foreign missionaries to leave India with-in a week. Our Italian missionaries had put heart and soul in the formation, mission and in the progress of the Indian Region. They gave their best to bring in the rich treasures of the spirituality of St. De Montfort. It was unfortunate that they had to leave the country abruptly. Their leaving was a big loss for Indian entity at that time of uncertainty.