Life of St. Montfort
Resources
Life of St. Louis Marie De Montfort
On January 13, 1673, St. Louis was born into a pious Catholic family in a region of France known for its dynamic Christian life. The day of his confirmation, he added the name "Marie" to his first name. Educated by Jesuits, he was considered intelligent, studious, deeply religious, artistic and somewhat shy by most of his teachers.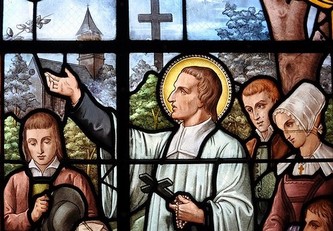 At the age of 19, he set off for Paris to begin his priestly studies. His trust in Divine Providence was so great that, having received financial assistance to pay for his education, he gave all his possessions to the first beggar he met and continued the rest of his journey (of more than 200 miles!) to Paris on foot, begging for what he needed along the way.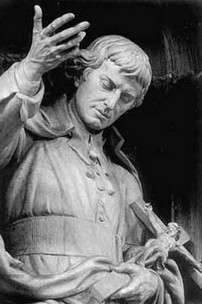 St. Louis' seminary years shaped the goal of his priestly life: to be a missionary to the poor, either in France or abroad. He would later write to his spiritual director: "I had wished…to form myself for the missions and in particular for teaching catechism to the poor…I feel a great desire to make Our Lord and His Holy Mother loved, and to go about in a poor and simple way, catechizing poor country people."
Ordained a priest at the age of 27, on June 5, 1700, Louis-Marie celebrated his first Mass in the Church of Saint-Sulpice, at the altar of the Blessed Virgin. Though St. Louis' priestly ministry would last only 16 years, he sanctified that time by traveling alone and with different groups of missionaries around France to minister to the poor and to preach the love of God to them.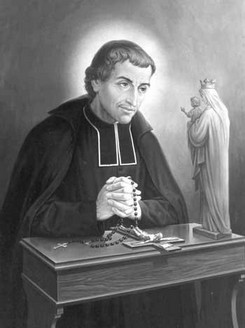 After a few years, restless and unsure about the manner in which he should fulfill God's call to serve the poor, St. Louis traveled by foot to Rome to seek the counsel of Pope Clement XI. When he finally was received in an audience with the Holy Father in the spring of 1706, Louis-Marie set out his difficulties and his desire for distant missions. "In France you have a field for apostolate that is broad enough to exert your zeal," replied the Pope. "In your missions, forcefully teach the doctrine to the people and to children. Have them renew their Baptismal vows." The Holy Father then conferred upon him the title of "Apostolic Missionary." Louis-Marie placed a crucifix blessed by the Pope on the top of his walking stick and left to return to France where he spent the remaining 10 years of his life preaching about 200 missions in the villages and towns of Western France.
St. Louis lived a life of strict poverty and preached with zeal to all. He was misunderstood and many attempts were made on his life. He was also forbidden to preach in some areas of France by the local bishops. None of these difficult crosses deterred the holy preacher, but rather affected a deepening of his spiritual life. In 1716, having been weakened by all of these factors, he collapsed from exhaustion after preaching a mission in the village of St. Laurent-sur-Sevre, where he died on April 28.